Looking for a home that has great fishing nearby!
Here in Martin County, it is not hard to find great homes and great fishing. You don't necessarily have to have a boat there are many places to do the catching. Including Bridges, Piers, Inlets, Beaches, and along the river banks.
You can fish off the Bridges/Piers
When I moved to the area our boat was still up north so we headed to the Jensen Causeway. Here we caught a variety of fish some on the small side that had to go back. Just great being outdoors on the water.
On the Beach or Inlets
How relaxing is it to set up on the beach enjoy the ocean view and wait for that pole to get a hit. Now you will see someone jump out of their chair to see what is on the other end of the line.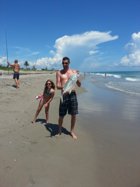 Along the Indian or St Lucie River
Of course, it is hard to know where all the great fishing spots are. Here we will point you in the right direction to find some of the hotspots.
When fishing for a home you are in the right place.
Let us help you find a home that will allow you to enjoy the lifestyle you are looking for.
For a complete list of homes click here
Let us help you with the process......that's what we do!
This content created by Barbara VanderMeulen Lead Buyer Specialist
//